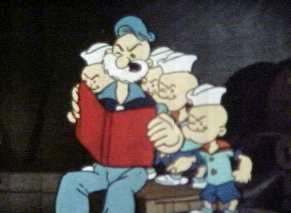 This is a dvd with 15 classic animated episodes. The titles are

Funny Company "New York"
Chilly Con Caveman
A Whale of a Tale
Olive's Shining Hour
Wilder Than Usual Blue Yonder
Spinach Fever
Popeye's Roots
Boo Who
So Who's Watching the Bird Watchers?
Neanderthal Nuisance
Private Secretaries
Tanks a Lot
Snow Fooling
Infink-try
Goon Hollywood
Up a Lizard River

They were transferred from 16mm film, and have always been a popular collection of episodes.